Happy Friday!!!
I know how much you all love vlogs.
Here is a little gem about how I keep house.
There are some tiny bits of freeing wisdom in there ladies + it's pretty short.
Enjoy!
Also the HIS VOICE link up goes live on Sunday!Link up a post from this month with a lesson that God has been teaching you, because you never know who else needs the lesson.God doesn't NEED to use you, but He sure wants to!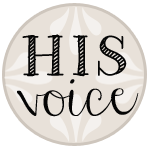 Of course I am linking up with the lovely
Alyssa @ Rags to Stitches